A Conversation with Ken Falke, Founder and Chairman of Boulder Crest Foundation
Ken Falke is the founder and chairman of Boulder Crest Foundation and a member of the Sigma Defense Board of Directors.  We recently had the opportunity to sit down with Ken to learn about the transformative impact that Boulder Crest is having for veterans, first responders,  and their families.
Q: Tell us about the inspiration, history and mission of the Boulder Crest Foundation.
 KF:   I retired from the Navy in 2002 after 21 years as an Explosive Ordnance Disposal (EOD) in the special operations community.  Throughout my career, I saw first-hand the physical toll that combat injuries had on my colleagues, and the mental and emotional impact it had on them and their family members.   After I retired, I started my own company, A-T Solutions which I sold in 2008.  It was during this time that I saw a significant increase in the number of IED injuries sustained in the wars in Afghanistan and Iraq which compelled me to start the EOD Warrior Foundation in 2007 whose mission was to support severely wounded military bomb disposal personnel as well as their families.   It was the work that we did at the EOD Warrior Foundation that inspired Boulder Crest, which we started in 2011 to provide a wellness center for combat veterans, first responders and their families.  It started out as a Bed and Breakfast type of facility where families could come to unwind and enjoy some time away.   Since then, we've grown significantly, and in addition to Bluemont, Virginia, we have a facility in Sonoita Arizona, and a Mobile Training Team. 
Q: Can you share a few stories from your experience at Boulder Crest that stand out in your mind?
 KF:  I have three stories that stick with me because they allow me to reflect on the needs of those we serve and they remind me of the impact that we have. 
 The first is a young woman that I met the first year when we were just getting started hosting families at our property in Bluemont Virginia.  This was a respite retreat for caregivers to provide them an opportunity to take a break from caring for their spouses and partners who were coping with trauma.  One morning, I saw this woman sitting alone in our music room and I stopped to talk to her and after we chatted briefly, I learned that her husband was struggling with PTSD and she said something that hit home: "I wish my husband lost his legs, so people would know and understand his injuries."  I realized that not all trauma is physical, and even though someone may appear healthy on the outside, they can be really struggling on the inside.  22 veterans a day take their own lives because they are unable to cope.  These are the people that we have to reach –  it's not just those that have physical scars, its mental wounds that are equally devastating.
 The next is a former professional football player who played for the Oakland Raiders.  He tore his ACL which was a career ending injury and it led him to become depressed and suicidal.   When he went through our program alongside soldiers, he found a mutual understanding of how these profoundly an injury can change your life.   Traditional programs are designed to make your feel "less bad" whereas Boulder Crest encourages our participants to thrive and live their best lives through post-traumatic growth.  This football player started a non-profit organization for STEM education and rededicated his life to something meaningful, outside of football.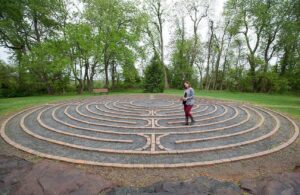 The third story is a young man who was a guest at Boulder Crest participating in the Warrior PATHH (Progressive and Alternative Training for Helping Heroes) program and he was really struggling.  On the last day in the program, we have a meditative exercise called the labyrinth walk, which is an artwork on the ground that participants navigate slowly – the idea is to slow your walk and slow your mind.  At the end of the walk the staff lines up to shake hands or hug the men and women as they finish the walk.  This young man shook my hand, and as he did, I felt him put squeeze something into the palm of my hand.  I looked at it and it was a .45 caliber bullet.  He told me that if this program didn't work, this was his next step.  That was a moment where I realized the impact that we could make.
 Q: Do you still have the bullet?
KF:  We do.  We actually have a jar of them now.
Q: How can people get involved that want to contribute to Boulder Crest Foundation?
KF:  There are 3 things that people who want to help can do to support the work we do at Boulder Crest.
 First, is what I call cheerleading.  This is the easiest way for people to get involved and it can help raise awareness of our mission and the work we are doing.  We share a lot of information about events, fundraising and other activities on social media, including LinkedIn, Facebook and Instagram.  You can help us spread the word and raise visibility by liking, commenting and sharing our posts with your networks.
 The second is volunteering.  There is a lot of work that goes into maintaining and running our facilities and we rely a lot on volunteers to help with everything from working events to maintenance on our grounds, cooking, and cleaning and even helping in the horse stables.  This is great opportunity for individuals or groups to come out to our beautiful facilities and be a part of something special and get a real sense of what we do. And, volunteering is as good for you and it is for Boulder Crest.
 Lastly, Boulder Crest is 100% privately funded and we have an operating budget of around $8.5 million per year, so financial donations are essential for us to maintain the resources we provide and to help us grow to reach more people with a broader array of services.   There are many ways that you can give and we appreciate every dollar that is invested to help our veterans thrive.
Learn more about Boulder Crest and the work they are doing at www.bouldercrest.org and by following them on LinkedIn, Facebook and Instagram.   You can also pick up Ken's book's "Lead Well"  and "Struggle Well" on Amazon to hear more stories about leadership and personal growth.